Fabian Cancellara wins the 100th edition of Ronde Van Vlaanderen
The weekend's Tour of Flanders gave us yet another display of Fabian Cancellara's phenomenal power and ability.
Tom Boonen crashes out
However; I do not believe it was his best ever performance owing to the fact that a lot of luck seemed to go his way on the day. The only man (Boonen) capable of matching his power crashed out early on. His flat tyre in the final 50km coincided with the only ten minute period at which the bunch had slowed. Other minor rivals with outside chances such as Team Sky's Geraint Thomas had falls and wasted energy trying to get back into the select front group of riders. Away from this, it was still a masterful performance form Cancellara. We got the chance to see the experienced, already decorated classics legend give a lesson in persistence to the arrogant Peter Sagan. Sagan's performance was still very impressive though; his supreme versatility is unrivalled. I for one will be most intrigued to see if he fights for victories in the Ardennes Classics.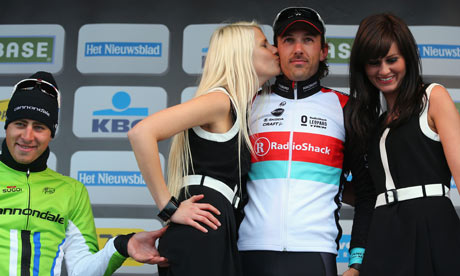 Sagan: Arrogant? Cheeky? Ignorant?
Ronde Van Vlaanderen is a fantastic race to win as one of the monuments and is a grand addition to a Palmares, but for a rider like Cancellara it gives him a staggering psychological advantage for the perhaps even bigger Paris - Roubaix which follows. It may also force other teams to change their own tactics for the race. Cancellara's superb power does not come as a surprise, but now the whole Peloton know that his form is impressive. Assuming that Boonen's fall does not present an injury problem, he now knows that he has to stick himself to Cancellara's rear wheel and follow him to the finish in Roubaix. We all know of Boonen's sprinting prowess, but what if Sagan manages to stay with the two favourites into the last 10km? Boonen may have to rethink his strategy, allowing Cancellara the moments of hesitation that he needs to gain five metres. As we know, as soon as Cancellara gets five metres of a gap, you might as well give up. The battle of tactics and power will be extremely enthralling.
One interesting thing that I noted throughout the coverage was the staggering amount of electric groupset failures. There were at least ten separate shots of riders stuck in one gear due to an electrical failure. The probable cause is the excessive shaking caused by the famed belgian cobbles, so I for one would not at all be surprised to see some riders switch back to manually operated groupsets for Paris - Roubaix. Owing to the development of frames to incorporate electric groupsets, we may even see riders using frames from a couple of seasons ago next Sunday.
Lastly, I watched the footage on British Eurosport, and the commentary of David Harmon was truly abysmal. His attempts to convey the excitement of a good attack or fall are poor and often followed by long pauses and little explanation. He then proceeded to let us listen to thirty seconds of Fabian Cancellara's winning interview and talked over the following two minutes so that I couldn't hear anything that Cancellara said. I turned off at this point, too fuming at the dismal commentary.
Superhuman
But back to next week's Paris - Roubaix. Personally, I think that Cancellara can only be beaten in Roubaix if one of either Sagan or Boonen can isolate Cancellara and draw him into a sprint finish. Cancellara's season has definitely benefitted from his injury struck 2012, which allowed him some time off to come back fresh and strong. Let's hope we see another Superman performance from Fabian Cancellara.